Win more hybrid cloud and interconnected deals
Simplify the selling of complex, interconnected data center solutions with Inflect's free tools.
Introducing Routefinder™ for Data Center Providers
Enable your Solution Architects and Sales Engineers to efficiently sell complex network and cloud solutions with Routefinder's patent-pending technology.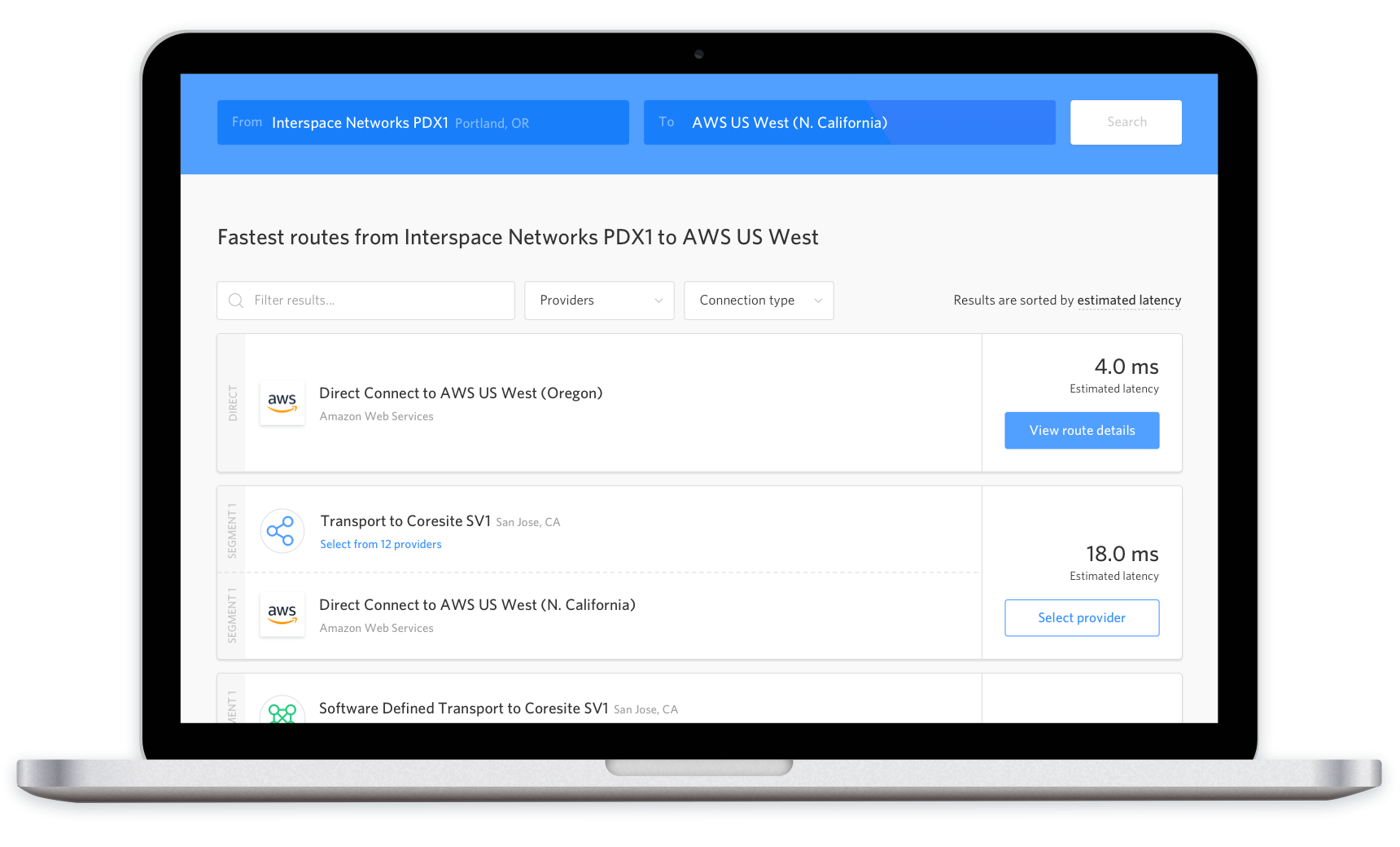 Enable the enterprise transition to hybrid cloud
The enterprise is in the midst of a once-per-generation shift from centralized architecture to distributed, hybrid IT. Sales can visualize how enterprise clients are connected to your data centers from their office buildings and private data centers. Reduce the complexity of moving to colocation and hybrid architectures.
Sell hybrid cloud from any data center
Win hybrid cloud opportunities even if you don't have a cloud ramp in your data center. Routefinder shows your sales team which network providers and SDNs can access nearby cloud ramps from major cloud providers, including:
Compare latency estimates
See best-case estimates and real world latency measurements to help clients choose a data center for latency-sensitive workloads.
Get your time back!
Cut your research time from days to minutes. Routefinder automates the research phase of the sales process, allowing your sales team to focus on spending time with customers.
How Inflect solves industry sales challenges
Inflect clears the way for your Sales team to sell complex, interconnected deals:
Up-to-date ecosystem data
Problem
Sales teams often rely on outdated spreadsheets and on-net lists.
Solution
Inflect works with the service providers in your data centers to keep their information up to date. Having reliable data about cross connect peers and IX participants, SaaS providers, cloud ramps, network carriers as well as software defined networks allows you to win multi-provider deals.
Cloud story enablement
Problem
There is no effective way to sell cloud access unless a cloud ramp is physically present in data center. Sales are confined to selling space and power.
Solution
Inflect's Routefinder gives you cristal clear visibility into Cloud and network connectivity options to and from your data centers, allowing you to sell hybrid-cloud from any data center in your portfolio.
Sales enablement
Problem
Cloud connected and multi-provider sales are complex and require intensive Sales Engineer and Solution Architect resources.
Solution
Inflect lets you automate the research phase of the sales process, improving the efficiency of your current team. Sell more with less SG&A.
Get started
Contact us to learn more about how Inflect can help you simplify the selling of complex, interconnected data center solutions.